Hywin Holdings Wins Key Honors at WealthBriefingAsia Greater China Awards 2023
06/01/23
• Hywin Holdings voted "Best Wealth Manager in Greater China 2023"
• Hywin Holdings CEO Madame Wang Dian recognized as "Best CEO in Greater China Wealth Management 2023"
SHANGHAI, China, June 02, 2023 (GLOBE NEWSWIRE) --  Hywin Holdings Ltd. ("Hywin Wealth", "Hywin", or the "Company") (NASDAQ: HYW), a leading independent wealth management service provider in China, captured two prestigious honors at this year's WealthBriefingAsia Greater China Awards, in recognition of its industry leadership and contributions.
Hywin Holdings was named "Best Wealth Manager of Greater China 2023". In addition, the Company's Chief Executive Officer, Madame Wang Dian, was recognized as "Best CEO in Greater China Wealth Management 2023". This is the third-consecutive year that Hywin has been named for both awards.
"We are deeply pleased and honored with our back-to-back wins for these awards from WealthBriefingAsia," Madame Wang said. "These accolades recognize the success of Hywin's 'Wealth + Health' growth strategy and our distinguished reputation in Greater China's wealth management space. During the past year, we've focused on sustainable growth by executing a balanced business agenda, while implementing various transformative measures in strategic expansion, product diversification, client advisory, technology deployment, and risk management. Our strong and resilient financial performance demonstrates our ability to create true value for both clients and shareholders."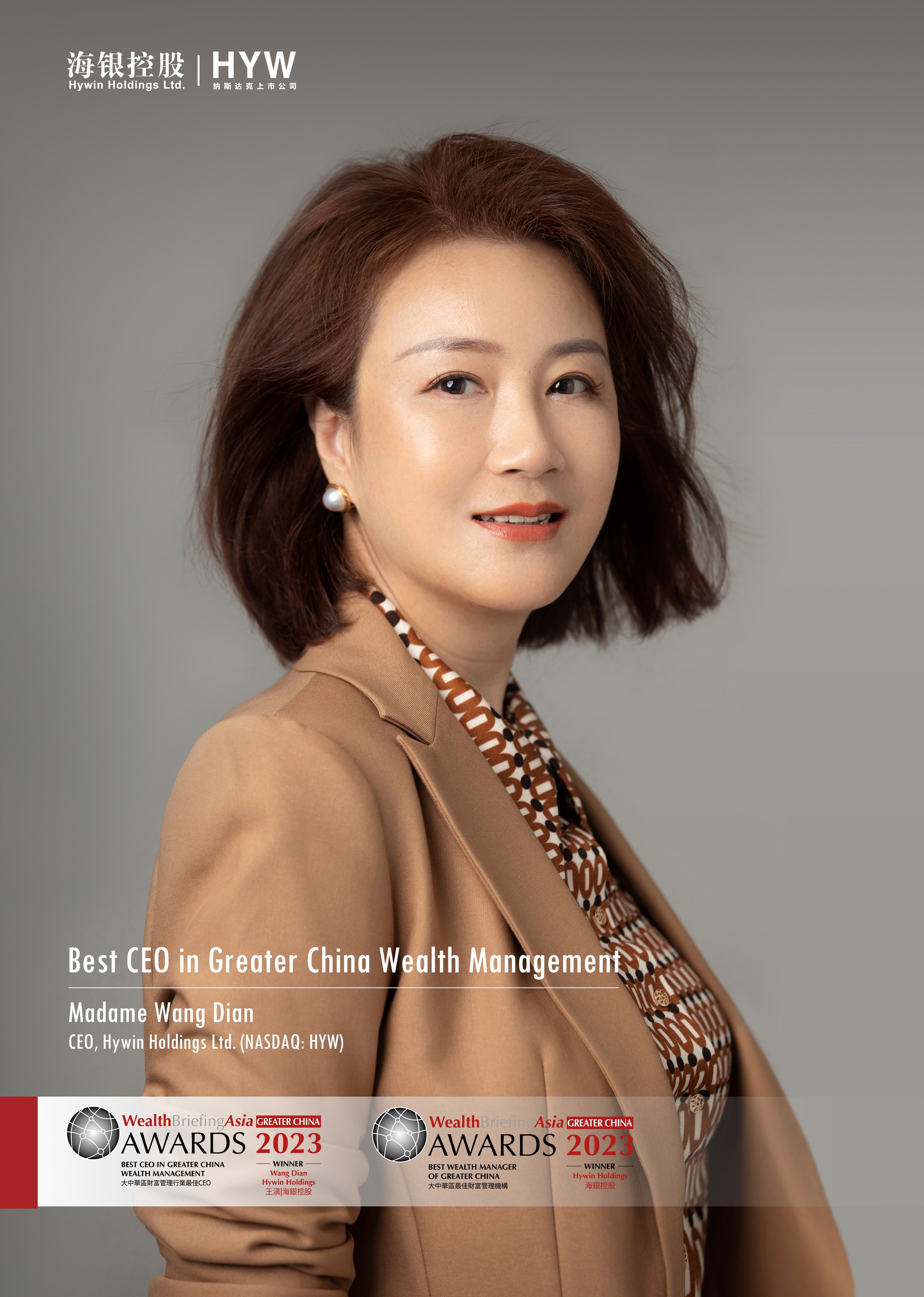 Hywin Holdings CEO Madame Wang Dian is recognized as "Best CEO in Greater China Wealth Management 2023"

Excellence in a challenging environment
The "Best Wealth Manager of Greater China 2023" award is a tribute to Hywin's devoted service to high-net-worth (HNW) clients in the region amid a volatile market environment.
In the six months ended December 31, 2022, Hywin reported its client base increased by 8.7% to 146,418, and the aggregate transaction value of wealth management products reached RMB40.1 billion in the six months, an indication of the strong trust that clients in Greater China place in Hywin and its differentiated proposition.
As of December 31, 2022, Hywin's total assets under management (AUM) increased by 114.3% to RMB7,013.4 million, representing the continued success of Hywin's efforts to provide discretionary services to clients, strengthen alignment between clients and their Hywin advisors, and increase the contribution of recurring income.
Read more: https://www.globenewswire.com/en/news-release/2023/03/23/2632907/0/en/Hywin-Holdings-Announces-Unaudited-Financial-Results-for-the-First-Half-of-Fiscal-Year-2023.html

Pioneer on multiple fronts
Leadership in Hong Kong's private equity industry
Hywin's success in the international space has been recognized by industry bodies such as the Hong Kong Limited Partnership Fund Association (HKLPFA). In February 2023, Hywin was elected Vice Chair of HKLPFA, a recognition of Hywin's capabilities in alternative asset management and its contributions to the Hong Kong-domiciled private equity sector. With this leadership role, Hywin will help shape the agenda of the Association and further promote the synergies between Hong Kong's private equity industry and global entrepreneurs, family offices, and private banks.
Read more: https://www.globenewswire.com/en/news-release/2023/02/22/2612786/0/en/Hywin-International-Becomes-Vice-Chair-Member-of-The-Hong-Kong-Limited-Partnership-Fund-Association-HKLPFA.html Madame Wang, Chief Executive Officer of Hywin Holdings, and Dr. Nick Xiao, Hywin International
Proprietary Hywin products
Hywin has also made strides in the index investing space. In April 2023, Hywin launched a principal-protected note linked to the FactSet Hywin Global Health Care Index in collaboration with Leonteq AG and ARTA TechFin, as the first commercialization of the FactSet Hywin index. This is an example where Hywin has demonstrated its core competency in designing and executing proprietary and innovative products tailored to HNW clients' demand, and also marked Hywin's pioneering role in introducing index-based investing to Chinese HNW clients.
Read more: https://www.globenewswire.com/en/news-release/2023/04/11/2644010/0/en/Hywin-Holdings-Leonteq-AG-and-ARTA-TechFin-jointly-launch-principal-protected-note-linked-to-FactSet-Hywin-Global-Health-Care-Index.html
Buildout in health management
In response to the growing needs of HNW clients for health management and family well-being solutions, Hywin moved into the healthcare sector by acquiring three health-management institutions including Life Infinity in 2022. Hywin's integration of health and wealth into one holistic proposition is a groundbreaking move in the industry, underscoring the Company's commitment to providing innovative and comprehensive solutions to its clients, as well as unlocking the growth and value from the heightened importance of health topics in the HNW eco-system of today.
Read more: https://www.globenewswire.com/en/news-release/2022/08/05/2493010/0/en/Hywin-Holdings-to-Acquire-Beijing-iLife3-Technology-to-Expand-into-Health-Management-Industry.html
Tech Prowess
Hywin has enhanced client service through technological upgrades. In collaboration with IBM, Hywin launched its WealthTech Platform in April 2023 to offer targeted services based on the 360-degree analysis of client profiles and preferences. Hywin will continue to execute its multi-year program of deploying tech enablers throughout its business value chain to maximize the benefits for its clients and relationship managers.
Read more: https://www.globenewswire.com/en/news-release/2023/04/04/2640346/0/en/Hywin-Launches-WealthTech-Platform-to-Enhance-its-Services-for-High-Net-Worth-Clients-through-Data-Analytics-by-Leveraging-IBM-Technology.html

Championship of change
The "Best CEO in Greater China 2023" is an award to Madame Wang for her industry leadership, her success in establishing Hywin as a best practice player in corporate governance in China's wealth management industry, and for her advocacy of ESG and societal changes.
Governance
Hywin is benchmarked against global best practices in its corporate governance. Hywin's Board of Directors reflects the Company's conviction to diversity and women in leadership, with half of the seats occupied by females.
Hywin's progress in corporate governance was highlighted by the award of "Top Ten CFOs of 2022" recently received by Mr. Lawrence Lok, CFO of Hywin Holdings Ltd., who has worked closely with Madame Wang Dian to build out the firm's corporate governance, internal control and processes, and financial reporting in alignment with the best practices at global peers.
Read more: https://www.globenewswire.com/en/news-release/2023/04/25/2653604/0/en/Hywin-Holdings-CFO-Recognized-Among-Top-Ten-CFOs-of-2022-at-17th-China-CFO-Conference.html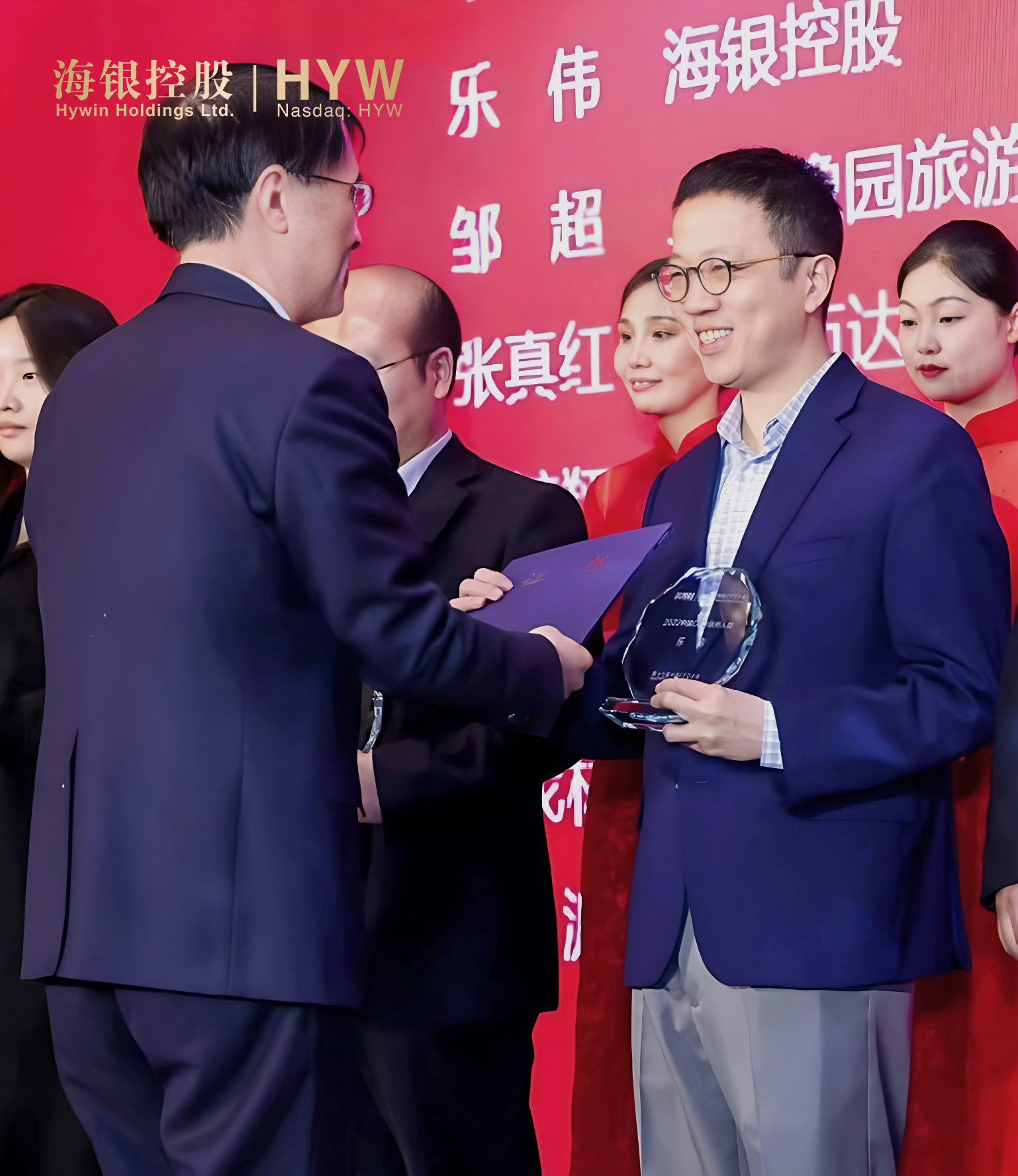 Mr. Lawrence Lok, on behalf of Hywin, is recognized among "Top Ten CFOs of 2022"
ESG
Madame Wang championed Hywin's Environmental, Social and Governance (ESG) initiatives and inspired the Hywin team to be an agent of change and advocate of equality. Under Madame Wang's leadership, Hywin is committed to uphold ESG principles and build a world-class company that creates value for stakeholders, gives back to the community, and promotes sustainability in China and the world.
Read more: https://www.globenewswire.com/en/news-release/2022/12/14/2573450/0/en/Hywin-Holdings-Publishes-its-First-Sustainability-Report.html
Global partnerships
Madame Wang's visionary mindset directed Hywin's strategy of globalization and partnerships. By working with global institutions including VP Bank, FactSet, Leonteq AG, ARTA TechFin, Schroders, and local authorities including InvestHK, Hywin has expanded the connectivity between Greater China and the rest of the world, bridging Chinese HNW clients with global solutions. Hywin CFO Lok's roadshows in the U.S., Singapore, and the Middle East during the past year also strengthened Hywin's leadership as the super-connector linking global capital and Asia opportunities.
Read more: https://hubbis.com/article/hywin-unleashing-the-power-of-partnerships
The two awards won by Hywin in WealthBriefingAsia Greater China Awards 2023 
About Hywin Holdings Ltd.
Hywin (NASDAQ: HYW) is a leading independent wealth management service provider in China focusing on providing asset allocation advisory services and comprehensive financial products to high-net-worth clients. The Company's primary services are wealth management, asset management, other comprehensive financial services, and health management services. Wealth management is currently the Company's largest business segment, in which its onshore and offshore solution platforms serve clients across generations. The Company also offers integrated and high-end health screening and health management services to high-net-worth clients in China, and aims to become a dual-platform serving clients across market cycles and life cycles. For more information, please visit https://ir.hywinwealth.com/.
Safe Harbor Statement
This press release contains statements that may constitute "forward-looking" statements pursuant to the "safe harbor" provisions of the U.S. Private Securities Litigation Reform Act of 1995. These forward-looking statements can be identified by terminology such as "anticipate," "estimate," "forecast," "plan," "project," "potential," "continue," "ongoing," "expect," "aim," "believe," "intend," "may," "should," "will," "is/are likely to," "could" and similar statements. Statements that are not historical facts, including statements about the Company's beliefs, plans, and expectations, are forward-looking statements. Forward-looking statements involve inherent risks and uncertainties. Further information regarding these and other risks is included in the Company's filings with the SEC. All information provided in this press release is as of the date of this press release, and the Company does not undertake any obligation to update any forward-looking statement, except as required under applicable law.
Investor Contact:
Hywin Holdings Ltd.
Email: ir@hywinwealth.com
Media Contact:
ICR, LLC
Edmond Lococo
Phone: +86 138-1079-1408
Email: HywinPR@icrinc.com
Photos accompanying this announcement are available at
https://www.globenewswire.com/NewsRoom/AttachmentNg/a5303feb-2b89-41b7-a687-f7a76893c024
https://www.globenewswire.com/NewsRoom/AttachmentNg/b66539f2-107b-4790-9b37-d709903a60c0
https://www.globenewswire.com/NewsRoom/AttachmentNg/8d08b795-c031-408f-a65a-df8e6f92a125
https://www.globenewswire.com/NewsRoom/AttachmentNg/7ed18810-9a69-4223-b26d-fb29144798b7